Finally, The Simple Yet Strategic Way To Attract, Nurture, And Convert Quality Clients Daily
...Even if you're not a content machine or willing to spend thousands daily on paid media!
What if you could book out your coaching business with highly targeted, dream clients each month?The High Ticket Messaging Elixir™️ is a mini-course and toolkit bundle that teaches you how to become the high ticket client magnet, & then collapses time helping you create faster, more resonant content, giving you all the resources you need to show up!

ATTRACT YOUR TRUE IDEAL CLIENT MATCH
So many women are ready to step into that next-level.
The one where they feel REALLY good about their price points.
The one where they light up just thinking about their clients.
The one where they finally reach the level of freedom they've desired for so long.
But there's JUST ONE PROBLEM....
THEY KEEP ATTRACTING THE WRONG AUDIENCE.

They're spending time creating content that initially feels good, but doesn't attract the right buyers.

They're getting people to opt into their freebies, and join their Facebook groups, but these same people go ghost, don't click, and don't convert.

Another problem is that they're hopping on sales calls with people who aren't ready, willing, & able to invest.
And most business owners just don't have to the time to get on calls with people who just aren't a fit. And let's be honest: Are we really serving when we're talking to the wrong people, anyway?
YOU'RE DESTINED FOR MORE...
You're more than ready to step into your next level.
There's a lot of uncertainties in this world, but one thing you know for sure is your ability to facilitate transformation.. And in a big way.
The problem is understanding how to connect with quality leads and potential clients that can actually afford your services.
And creating, growing and scaling a high ticket serviced based business can seem heavy at times, correct?
Feeling like you have to show up every second, create loads of content, live stream like a maniac, and then still have enough bandwidth to show up for your clients.
I totally get it.
Not to mention what's going on in the world today.
You've been asking yourself:
Should I pivot?
Should I lower my prices?
What should I be saying?
You want to start attracting next level clients, grow your firm, and start to feel the sort of freedom you started this business to have, right?
That's why I'm offering you access to my newest program, High Ticket Messaging Elixir™️ worth $497...
..for just $37
introducing...
A mini-course and toolkit bundle that teaches you how to become the high ticket client magnet, & then collapses time helping you create faster, more resonant content, giving you all the resources you need to show up!
The perfect all-inclusive business bundle for high-level transformational coaches, consultants, strategists, and healers and other mentors.
YOU WILL LEARN HOW TO:
✨ Attract clients who actually are a fit for your services and offerings
(no more talking to potential clients who aren't a fit saving you time and money)
✨ Create content quickly and easily, so that you're able to stay top of mind for your audience
(this way, she will have no doubts that you have the solution to her problem)
✨ Learn how to nurture and condition your audience so they self select and become clients faster, collapsing time in your sales cycle
(gone are the days of your audience being nonreactive. Your tribe will increase AND they will take action faster than ever)
Imagine yourself...
creating soul-aligned, yet strategic content that has your ideal client feeling like you literally read her mind.
(..and without spending half the day wondering what to post)
IT'S YOUR TIME TO RISE
How would your business and life felt if you were able to create real and intentional connections, book discovery calls, and have clients signing up from your posts, live streams, and podcast episodes?
Because of your alignment with what to say and how, your leads will be sold before they even get on a call with you.. Which should always be the goal.
And that's exactly what is going to happen when you use the High Ticket Elixir™️ to create.

AN ALCHEMIC BLEND & THE ABSOLUTE EMBODIMENT OF HIGH TICKET SALES MASTERY

HERE'S A BREAKDOWN OF WHAT'S IN STORE FOR YOU.

High Ticket Messaging Workshop
In this workshop, you will work to tweak your messaging so that it is exactly what your ideal client needs to hear to take action. I'm going to show you the common mistakes most people make when it comes to attraction marketing & show you the simplest, yet most effective way to create messaging for her - we call it BRANDed Content.
$197 Value

Marketing Mastery Workshop
In this workshop, you will be working on your visibility and marketing campaigns so that you're strategically showing up where she is and creating content the way she likes to consume. You'll also learn the most effective way to create an omni-channel marketing strategy so that you stay top of mind to your ideal client.
$197 Value

High Ticket Platinum Social Media Post Outlines
On top of the Workshops and Prompts, I'm giving you a bunch of post outlines. Gone are the days of knowing what you want to say, but not knowing how to write the posts. These outlines are designed to make your posts stand out & for your ideal clients to rise. These outlines that you will use are perfect for social media posts, email broadcasts, podcast/live stream outlines, blog posts & more!
$97 Value

100 Content Prompts & Ideas
This is a complete list and Trello Board of different post prompts specifically designed to attract high value leads, position yourself as the expert, and condition your audience to take action. And a BONUS to this is the 20 ways I show you to repurpose each prompt. This is going to give you over 2,000 pieces of content!
$197 Value
Hey, I'm Tanya!
I'm a High Ticket Monetization Coach & Consultant for high performance & impact-driven serviced based women in business. CEO's and women of influence come to me when they're ready to create high ticket programs & replace their corporate salaries.
Why?
Because that's my speciality. Not only was I able to replace my own 6 figure corporate salary within months of starting my business years ago, I've helped countless other women do the same.
On top of that, I'm also a Best-Selling Author, Speaker, Digital Course Creator, Podcast Host, and Advocate Against Domestic Violence.
I've taken over 17 years of corporate sales and marketing experience, more than $120+ million dollars in revenue for Fortune 250 businesses, coupled with OVER $80,000 worth of schooling/training/coaching, and over 30,000 HOURS of coaching to be able to teach you how to build & scale your coaching or consulting practice.
And there's no time like the present to get more strategic about scaling yours.

IT'S TIME TO SHOW UP & SHOW OUT.
YOUR IDEAL CLIENT IS EVERYWHERE.
Don't believe the hype that there's exclusive places to find clients that a ready, willing, and able to invest in you. She's literally everywhere.
And now you will have everything you need to show up and attract her.
Yes, I Need This Bundle!

High Ticket Messaging Workshop . . . . . . . . . . . . . . . . . (Value $197)
Marketing Mastery Workshop. . . . . . . . . . . . . . . . . . . . . (Value $197)
Over 100 Content Prompts & Ideas . . . . . . . . . . . . . . . . (Value $197)
High Ticket Platinum SM Post Outlines. . . . . . . . . . . . . . (Value $97)
Complimentary FB Community. .. . . . . . . . . . . . . . . . . . . (Priceless)
Templates, Trellos, Docs, & More. . . . . . . . . . . . . . . . . (Value $197)
BONUS: Sell it LIVE Live Stream Outline. . . . . . . . . . . . . (Value $97)
BONUS: 6 Figure Business Daily Checklist.. .. . . . . . . . . (Value $97)
BONUS: Over 35+ High Ticket Biz Worksheets . . . . . . . (Value $97)
TOTAL VALUE = ($1176+)TODAY'S PRICE = $37 Yes, I Need This Bundle!

Of COURSE there are bonuses...
01
BONUS: SELL IT LIVE LIVE STREAM OUTLINE
This is the exact outline I use and my clients have used to sell high ticket coaching packages directly from live streams - often times without a discovery call! You'll be able to conduct live streams that conditions your audience and converts them to clients.
$197 Value
02
BONUS: 6 FIGURE SALES OUTLINE & CHECKLIST
This is an outline will walk you through the exact daily tasks to master to build a successful, yet profitable online brand, releasing the feelings of stuck or overwhelm for good! Create massive action, show up boldly, and increase revenue for your company with a few hours daily.
$97 Value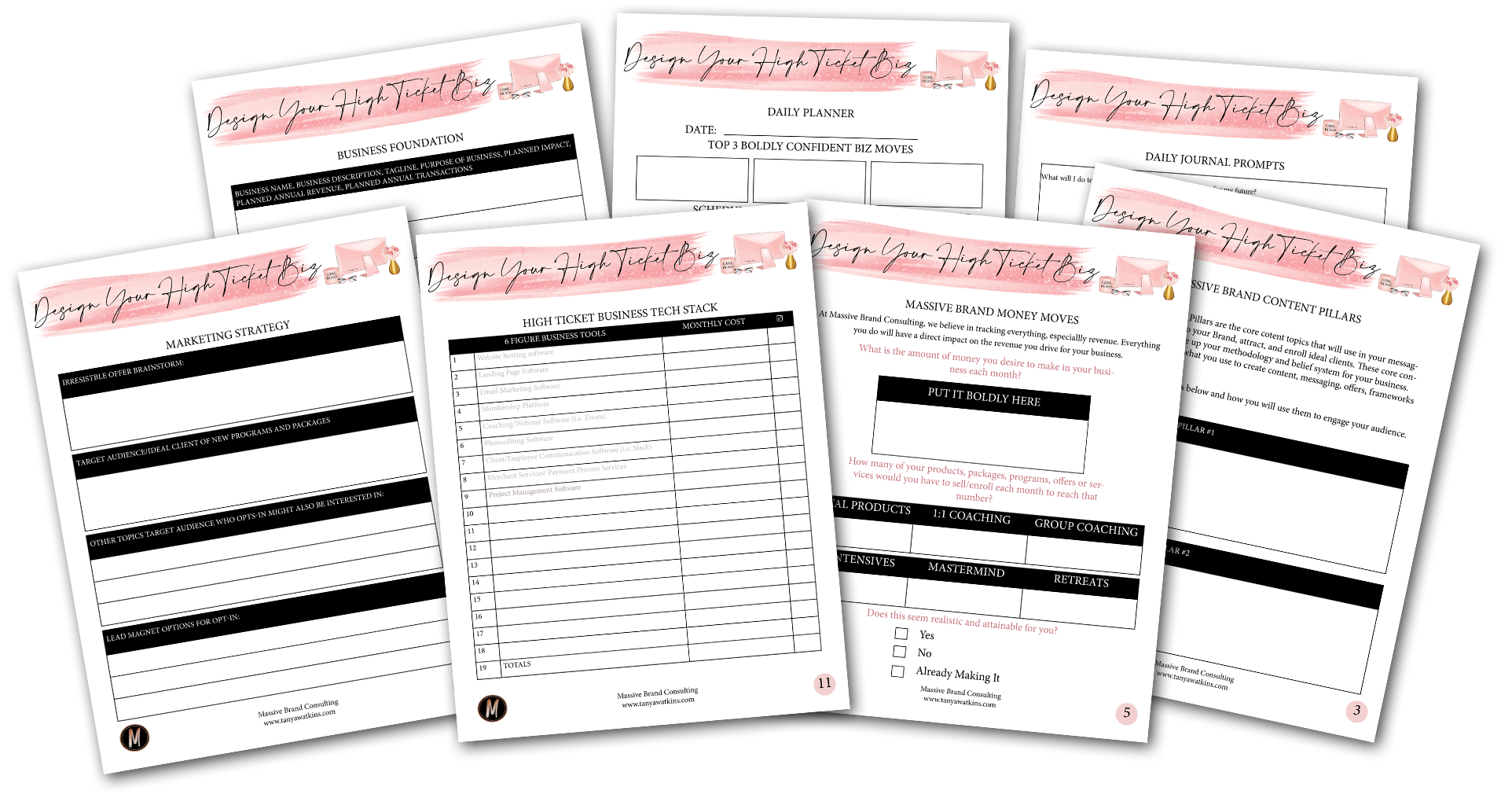 03
BONUS: OVER 35+ HIGH TICKET BIZ WORKSHEETS
As another bonus, you will receive almost 40 different worksheets that you will use to operate your coaching or consulting business. Some of the worksheets include a content strategy planner, a daily and monthly planner, daily journal prompts, and more!

There is absolutely no doubt in my mind that you will show up faster, better, and more resonant with your ideal clients...
but you don't have to take my word for it. Order the bundle now and see for yourself.
If you're not 100% satisfied with the workshop, the Trello boards, or the bonuses within 7 days, AND you can prove that you implemented everything you learned then we will offer you a full refund.
THIS PROGRAM WILL NOT BE AROUND FOR EVER…
Or at least at this price anyway.
This information was carefully crafted from the content we've created for our VIP clients and customers.
With all that's going on today in the World, we felt the need to create something amazingly transformational, but at the most insanely reasonable price point as well.
faqs, just in case...
WHAT EXACTLY IS THE HIGH TICKET MESSAGING ELIXIR?
The HTME is a bundle of workshops for you to complete along side templates, worksheets, and Trello Boards. The main benefit to you is learning how to create super resonant content AND to create it faster. With the 100 content prompts alone you'll be able to create valuable content for your audience.
WHAT IF I DON'T HAVE A HIGH TICKET OR SERVICE BASED BUSINESS YET?
No matter what, you still need to be client attractive. Regardless of your price point, it's going to be extremely beneficial for you to create a system around how you create and to have a deeper understanding of how to get your audience to react.
WHEN DO I RECEIVE ACCESS TO THE PROGRAM AND ALL OF THE TEMPLATES & TRELLO BOARDS?
Immediately! You will receive an email with your membership details and you will have an entire members area to login to with all of the video trainings and access to all of the worksheets and Trello Boards.
WHY IS THIS ENTIRE BUNDLE ONLY $37?
I've been wanting to create this forever! I hear from so many of my clients and women in my audience that it can be difficult to step into the next level because of messaging. And this is the #1 way to establish yourself as a leader and expert in your field. Besides, once you fall in love with this program, we're confident you'll be back for more!
WHAT IF I'M NOT HAPPY WITH THE PROGRAM? If you decide within 7 days that you weren't satisfied and you can prove you implemented our teachings, you will be eligible for a full refund!High Ticket Messaging Workshop . . . . . . . . . . . . . . . . . (Value $197)
MASSIVE BRAND CONSULTING, INC - ALL RIGHTS RESERVED - TERMS & CONDITIONS